New Haven is the central town in Block Empires. Players will find themselves spending most of their time, if not a member of a town, in this town. It has many things for players to visit, including:
Dungeon House
Edit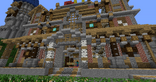 The Dungeon House is a building in New Haven that includes teleports to most of the dungeons in Block Empires. It also includes information of these dungeons, such as difficulty, backstory and lead builders.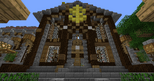 The Bank is where you can sell Gold Ingots to receive 100 Silver per ingot. There are also Ender Chests downstairs where players can store important items.
Marketplace
Edit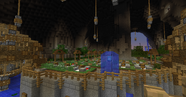 Underneath New Haven is a player-owned marketplace, where players can purchase shop plots to market off their items of interest to wealthy players.
New Haven Airship
Edit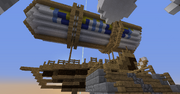 The Airship here is one of the main means of travel across the RP World. It can take you across most of the map. 
New Haven Docks
Edit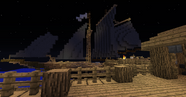 Similar to the Airship, this is also a means of travel across RP World.
New Haven Arena
Edit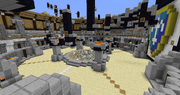 Players can challenge their friend or foes to a battle or two here, where the heat is as high as the stakes! There's also a parkour for those daring enough to scale the heights in the midst of a battle.